The evergreen heart of Perthshire, Murrayshall dates back over 400 years. The former home of Lord Lynedoch is not only a stately house, but a landmark on the Scottish landscape. With 40 sophisticated rooms and suites, you'll find a hideaway that's full of natural tranquillity. As you explore our extensive grounds, you'll find something to suit every desire. 27-holes of parkland golf and an ever-flowing range of activities across the surrounding area. Plus an array of award-winning food at our brasserie and bar. You'll be enchanted with everything Murrayshall has to offer.
Our Rooms
Elegant and sophisticated; it's the little details that matter
As you escape the grey of everyday life, you'll be transported into a world of relaxation at Murrayshall. With over 40 bedrooms and suites to choose from, you'll find the ideal room for your stay: deluxe rooms, luxurious settings, family suites, and dog-friendly suites too.
AWARD WINNING DINING
Best Boutique Hotel Restaurant
With the beauty of Perthshire on our doorstep, we bring the taste of nature to your plate. Recently awarded 'Best Boutique Hotel Restaurant' in the UK, we create the perfect balance between traditional and modern dishes. Craig Jackson and his team will impress you with only the finest ingredients sourced locally.
Eat at Murrayshall
Book your next meeting with us and take advantage of our special winter rates
Visit Murrayshall this winter and take advantage of our special rates. Whether for great food, for adventure, chill seeking or exploring, Murrayshall has it all. Available for new group bookings between 1st of November and the 31st of March.
READ MORE
Unforgettable weddings at Murrayshall
Set in a classic Scottish country estate, you'll impress your guests with the tranquil settings and rolling Perthshire hills. Capture your memories together with this spectacular backdrop, and Murrayshall will take care of the rest. We vow to make your dreams come true.
READ MORE
Meetings & corporate events
When you need a venue unlike any other, you've come to the right place. At Murrayshall, we can offer you several options to suit your needs, including private rooms, conference rooms and an exquisite dinner for your delegates.
READ MORE
VISITOR REVIEWS
"Booked a one night stay and it was wonderful. The location is so picturesque and peaceful. A great place to get away from it all. The room we had was very modern, clean and comfortable."
"Lovely well maintained hotel. Stayed here twice and enjoyed both visits. Excellent food with breakfast freshly cooked to order. Roomy and nicely decorated bedrooms with comfy bed."
"This is a lovely hotel set in magnificent surroundings. My room, in the older part of the hotel, was spacious, clean and comfortable, with all the facilities you expect from a 4 star hotel."
"This property is truly a special place if you seek luxurious accommodation in a secluded, beautiful country estate with breathtaking views, yet minutes from central Perth, near Scone Palace and convenient to points North. This beautiful, inviting house is exceptionally maintained and offers a complete range of amenities, a spa, golf course and driving range. The bed and bedding are among the finest I've experienced. The staff are first class and make one feel at home. There are two restaurants, one international class gourmet cuisine and the other a casual setting offering steaks, burgers, and lighter fare. I was only able to stay one night and enjoyed a delicious dinner of grilled hake, potatoes, a portobello mushroom and grilled tomato, accompanied by a nice glass of Italian Rose. There's a wonderfully comfortable lounge/bar and quiet library for reading and relaxing. My only regret is that I wasn't able to enjoy the experience longer." Greg B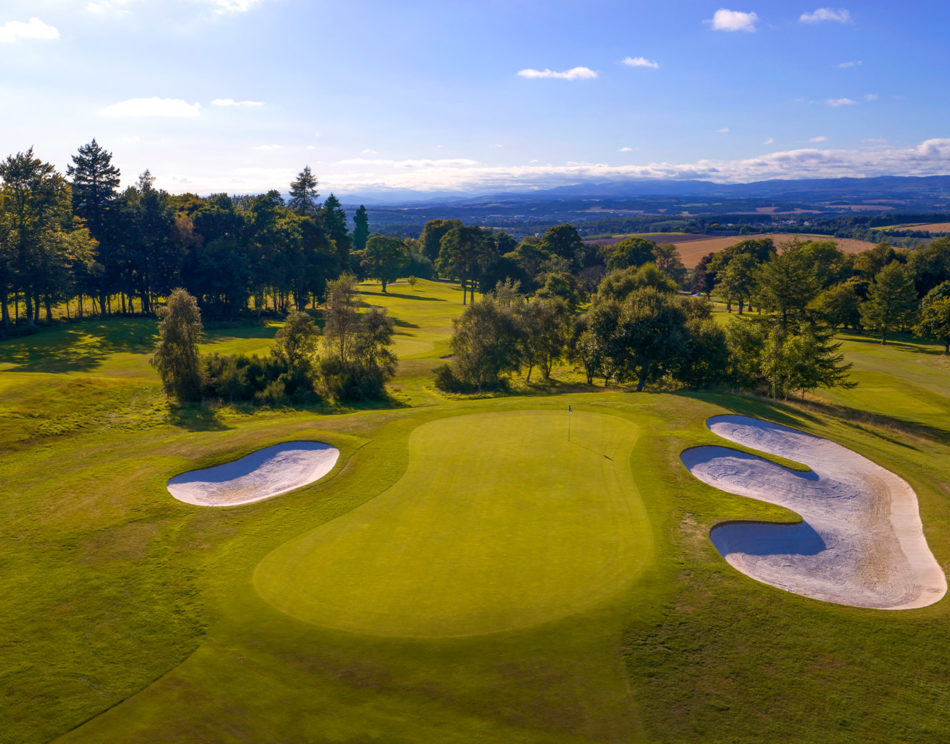 GOLF AT MURRAYSHALL
Feel invigorated on the green
Surrounded by luscious greens and tree-lined fairways, you'll be in awe of the two parkland golf courses at Murrayshall. Meandering across the rolling hills, the biggest decision you'll have to make is which club to choose for your master shot.
Play at Murrayshall
LUXURY OFFERS & BREAKS
Escape the ordinary and leave behind the stress. It's time for your retreat, an unparalleled experience where you can feel invigorated and energised.